12 October - 12 November 2023: Slip and Salt by Frances Savage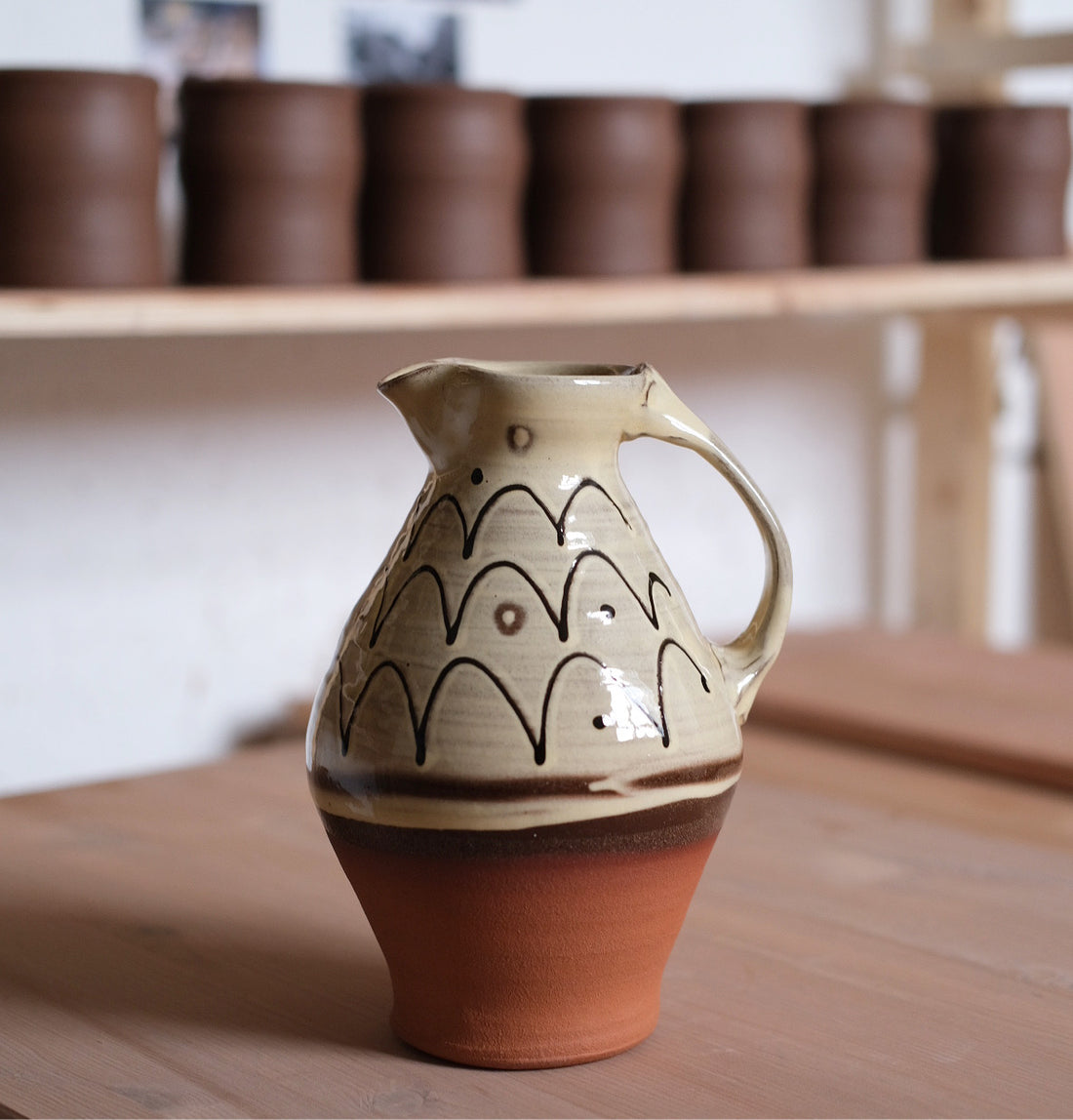 Our final exhibition of 2023! Slip and Salt features a range of functional pots by Frances Savage that explore the possibilities of using slip as a decorative method - utilising both low-fired terracotta and high-fired salt glaze.
A body of work that has been made both at Frances' studio in Manchester and also in Gower, where she worked alongside salt-glaze potter Micki Schloessingk, learning the art of wood and salt firing.
Private view on Tuesday 10th October 6pm to 8pm
How did you end up working in ceramics and deciding to attend Clay College?
I started a really great adult learning pottery course at Greenwich Community College when I was a student at Goldsmiths studying Social Anthropology BA - I found my degree really interesting but soon realised that I actually dreamed to work with my hands and throwing clay seemed like an incredible way to do that! I worked away at evening classes practicing throwing whilst working in Primary schools as a SEND Teaching Assistant - then I took the plunge to move to Manchester and apply to Clay College as I really wanted an in-depth practical learning experience with the opportunity to learn about kiln building and reduction, wood, salt and soda firing.
What drew you to working in terracotta as opposed to other clays? And what drew you to working with slip?
I was initially drawn to terracotta for quite practical reasons - when I left college I was already part of a shared studio space (Manchester Ceramics Collective) with electric kilns available and never really found my stride with oxidised stoneware - so slipware for me was a way to reflect what I had learnt at college - making pots that felt true and honest to my previous work in reduction stoneware. I had always applied slip to higher fired pots destined for salt, soda or wood firings and it felt like a natural (but scary) progression to turn to terracotta slipware. Also - firing the kiln at a much lower temperature is really great in terms of energy consumption and that felt important as a potter starting their way in the world! Lastly - decorating with wet slip on a pot is truly a 'Potter's privilege' as one of my my tutors Brian Dickenson used to say - and he is right! There is a lusciousness that is so hard to describe unless you have worked with wet slip - it's the best! 
Did you approach your pots differently at all when making for the salt-glaze firing?
I think I tried to reflect my slipware in my salt pots - I feel the forms and handles are always quite true to a style and I focus a lot on things being comfortable to hold, rims being nice to drink from. I did less surface decoration on the salt pots to really let the wood ash and salt do the work! I have also been testing honey-style glazes at higher reduction temperatures and am really happy with some of those results! I like to think of the work as a family!
What do you enjoy most about wood firing?
I think it's the same as most potters - the quiet atmosphere in the early morning when it's just you and the fire, feeding it with wood and learning to get into a rhythm that seems to come as an instinctive human response. I think wood-firing is such an important step in learning what is happening inside any kiln - you really live through the whole process - from beginning to end, by packing the kiln, watching the temperature climb and understanding what is happening to your pots inside. 
Who is a maker whose work you love and admire that we should know about but might not?
In the UK I am very fond of the work of a slipware potter called
Mike Parry
- love his forms, handles and decoration! Also the potters at
Wobage Farm
(Ross on Wye) - Jeremy Steward, Petra Steward and Patia Davis - love all of their work! 
I love a lot of US potters - I think they have such fun with their forms and handles and are less constricted by the traditions that we see in British Studio Pottery - Allison Severance makes amazingly expressive wood-salt fired pottery, also love the work of Andrew Kellner and Jason Hartsoe. 
What is your favourite part of your making process and why?
I think probably throwing and slipping are my two favourites - putting on some music and getting into a rhythm whilst the time ticks by is a real joy of being a potter! I like to listen to dance music when slipping to loosen up a bit! 
Favourite ceramics shops or galleries in Manchester that we should know about?
There is a lovely shop in the Northern Quarter called
Form Lifestyle Store
that sells some really nice potter's work, the
Whitworth
is a fab gallery! I would say I think Manchester is missing something like Klei - a ceramics focussed shop with a large range of different firing techniques and making styles!
Where does your inspiration for your work usually come from? What sights, sounds, stories affect or influence you?
I'm never quite sure what outside forces inspire me - I know that inspiration for forms comes more from feel and usability - round and soft shapes that are comfortable to hold with handles that are more akin to American style pottery handles. I have always preferred warm colours rather than cool colours - so I use Red Iron Oxide as my only colorant in my glazes which feels quite sustainable as there is an abundance of it in the earth and is very safe to use in glazes in terms of food safety. I love all of the historic slipware such as
Thomas Toft
- amazing slip-trailed decorative plates that seem quite timeless!  
What is the most recent ceramic vessel or piece of pottery you bought for yourself, from where and by whom?
It was a gorgeous slipware carrot plate from my friend
Jessica Turrell
in Lynmouth Pottery - Devon!