3 - 27 August 2023: What Everything Does Will Be The Backwards Opposite by Ali Hewson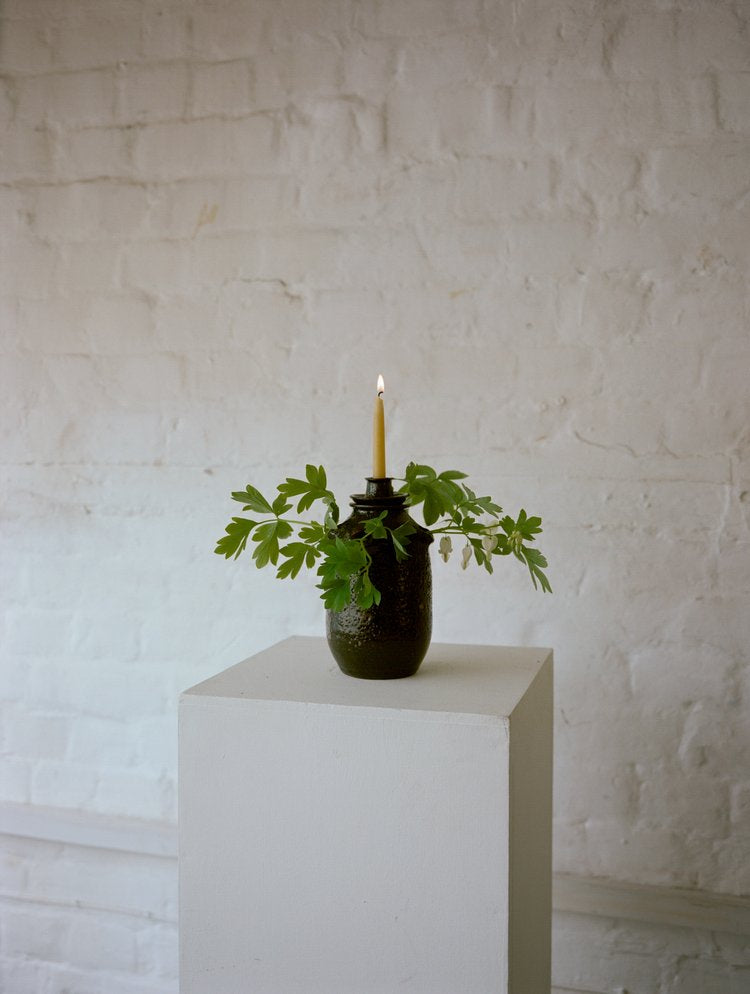 We look forward to welcoming East Anglia based artist, Ali Hewson, to klei this August.
Please join us to celebrate on Wednesday 2nd August 6pm to 8pm
What is the name of your exhibition and can you give a short sentence summing it up? 

It is called "What Everything Does Will Be The Backwards Opposite", which is a line from Alternating Lunes, a poem by Bernadette Mayer and Philip Good. This collection is in black and white, and the poem felt like a good fit for how I felt about it - this is an excerpt:

"synesthetes come in many colours
snow sometimes slants
when will untranslatable make improvements?
if you stick with me
what everything does
will be the backwards opposite"
This is the launch of a new collection - what brought you to this point or inspired it?
This is my permanent collection of pieces, sort of like a signature capsule collection! It has been developed over several years, with the designs being refined and improved on. The white pieces are a german clay, whilst the black pieces are a UK based stoneware with black slip on top. I wanted a range of functional pieces that felt like interesting and special objects to live with. The designs come from a variety of places, the candlesticks for examples originated with London Delftware candlesticks that are much thinner with exaggerated dishes, in a tin glaze. I began looking at those, and throwing candlesticks in multiple parts and joining them, then tried a range of sizes, and finally ended up at a point where they are thrown in one piece and feel like a good weight and size. The plates are a nod to old pewter chargers and rimmed plates.
What did you do before you started working with clay?

I did my BA at Camberwell, in Illustration, and started working with clay whilst on my foundation. It was something I did on the side, in classes all over London. I feel really lucky in that I found it quite accidentally, it seemed like a tonic to the very commercial and competitive world of illustration. It was only when I moved to Norfolk nine years ago and had my own studio space that I began to really develop the work I was making. After the move I worked in a lot of jobs that made me incredibly miserable, and in some really great jobs that I miss loads, for the Royal Drawing School and as a freelance tutor specialising in drawing and ceramics doing education outreach in museums and galleries. I did them all alongside each other whilst building up my studio work which I'd do in the evenings and weekends. I went fully freelance about three years ago and now can't believe I ever fitted it all in/ how lucky I am do be in the studio all day.
What drew you to ceramics?

I really loved how open and uncompetitive it felt when I first started going to classes - I think my first ever ones were with Chris Bramble at Kensington and Chelsea College. I really work best thinking through making- although I love drawing it doesn't figure a huge part in the way I develop work. I'm a very analogue person and clay just felt right for me. I've always been a big museum goer and was very drawn to ceramics from all periods of time, all over the world. It feels impossible to ever be an expert in clay, or the history of clay. There is always so much to learn and deep dive into. I love working stuff out by physically making it.
Who is a maker whose work you love and admire that we should know about but might 
not?

I have to mention two friends and fellow Norwich ceramicists who I am exhibiting with currently at the Assembly House.
Rya Nicholson
makes beautiful, considered, wheel thrown pieces from her studio in Norwich. She is amazing with glazes and her pieces feel so light and unreal to hold.
Rachel Kurdynowska
has a gorgeous studio in the front of her house, just down the road from my studio. She makes really fun, unusual, thoughtful work- the latest thing she was showing me were ceramic gardens. But she's also an incredibly talented thrower, and does a lot of teaching. As well as all that she has an incredible technical knowledge. She doesn't use social media but you can visit her website/join her mailing list.
What is your favourite part of your process? And how do you find the combination of 
throwing and handbuilding?

I really love being alone and finding myself absorbed by the task at hand. I think I prefer the wet making stage with clay, when it's still full of potential. Something that has always drawn me to it as a medium is the layers of process, which helps me separate and externalise from the work- so each stage it goes through that you can't turn around from, before it becomes a fully fired thing that isn't changeable/editable anymore. I like the change of pace between throwing and handbuilding, the different clay preparations and headspace that each bring.
What do you hope people experience or feel when they see, touch and use your work?
I'm not sure! The fact that it goes out into the world and is experienced by people is wild.
Where does your inspiration for your work usually come from? What sights affect or 
influence you?
It normally starts in a museum collection- I'm particularly drawn to London Delftware, London Slipware and Korean Joseon Dynasty pieces, but I kind of love all sorts and everything. It can come from bits of stone, colours in nature, thinking about use eg how to show flowers, too.
What is the most recent ceramic vessel or piece of pottery you bought for yourself, from 
where and by whom?

I go to the local carboot sale most weeks so it was probably from there - I've recently bought a slab built vase (from the woman who made it as a teenager!), a tin glazed ceramic horse, and a 19th century Fajalauza bowl (which was covered in limescale and had a plant in it!)