9 March - 2 April 2023: Colours Only Exist When You Look at Them by Arjan Van Dal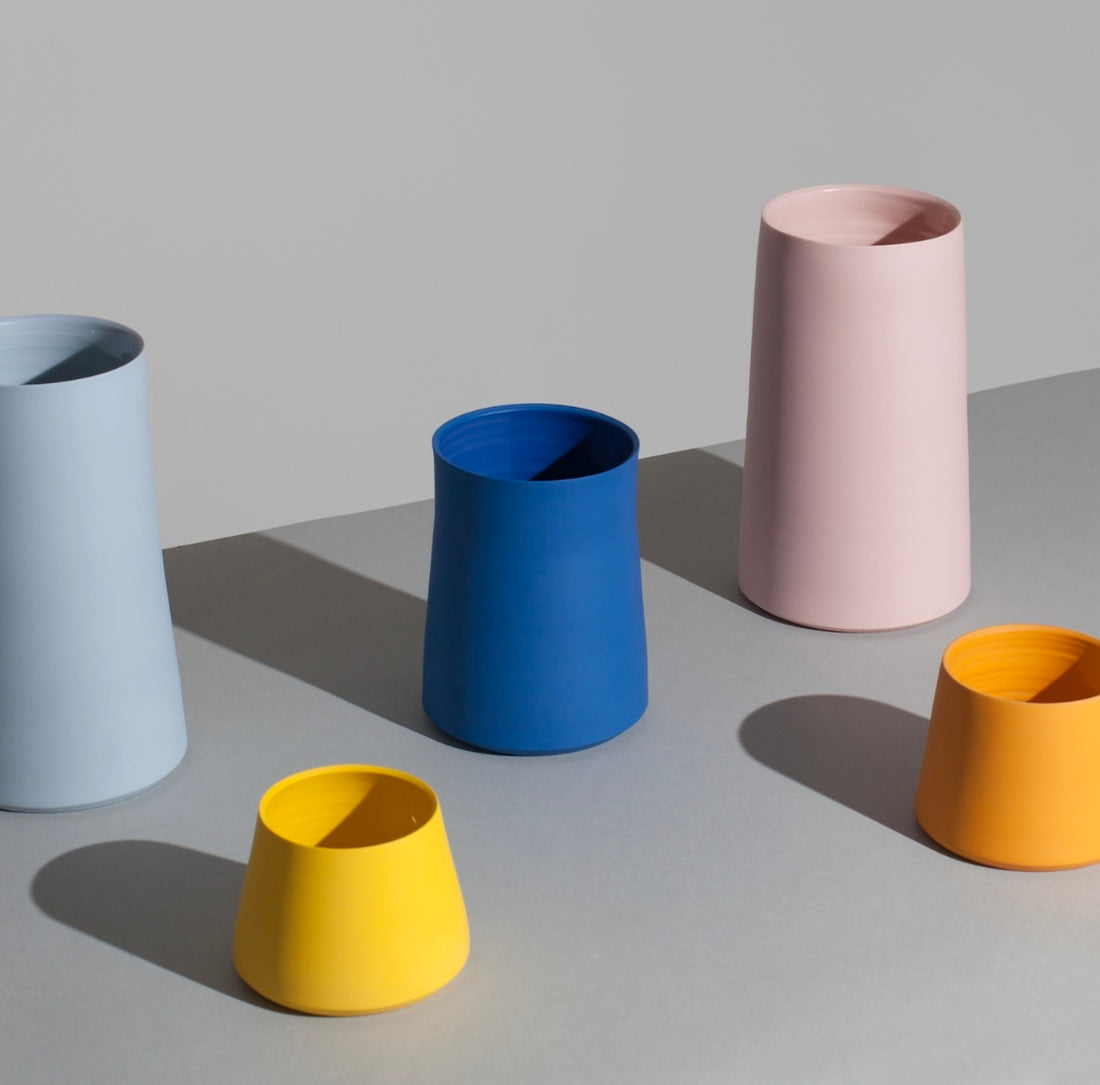 Arjan is an east London based artist working mostly in stained porcelain. His work is vibrant, full of the energy contained by colour and pure joy to see and touch. We welcome him to klei for the first installation of our 2023 guest series. Arjan will explore a colour palette that brings refreshing light as the recent darker months start to fade and we prepare for spring.
The Private view for "Colours Only Exist When You Look at Them" is on Wednesday 8th March, 6-8pm. Please join us for a glass of wine to celebrate and be the first to see this collection of Arjan's work.
What is the name of your exhibition and can you give a short sentence summing it up?
Colours are all around, but we often don't notice them intently. I once stumbled upon this sentence in an interview of Olafur Eliasson, an artist I greatly admire for his work embedded in a scientific approach and his advocacy to treat our world sensitively.
Colours in essence are different wavelengths of light that enter our eyes. That fact still amazes me when I take new work out of the kiln after it has undergone this dramatic transformation in colour during firing. You could argue that some of my colours are hard not to see. I use vibrant colours to draw the eye. Plus I also find it very uplifting to make functional work in colours that can brighten up your day.
Your work has a modern design-led outlook but your approach to making is traditional in terms or ceramics as a craft - what about creating most of your work on the wheel as opposed to other methods of making attracts you? 
When I started ceramics I instantly fell in love with the spinning movement of the wheel. As a lot of beginning potters can recall, it can also be a struggle to master the craft of throwing. But once you have it in your fingers, it gives you a lot of possibilities to instantly play around with different shapes and angles compared to other ways of making.
I don't see myself very much as a production potter. For creating larger batches of work a different process, like mould making, would make sense. I primarily try to keep a playful element for myself in the making process. That means limiting the amount of repetition to just a few standard shapes, like bowls and cups, in order to train my so-called muscle memory. For the rest I prefer to create individual forms. My engineering background probably pushes me to give a functional purpose to each piece that's made.
How long have you been working with clay and porcelain, and how did you end up working with it?
I initially took up pottery when I went to university. It was a creative outlet to my, not very flamboyant engineering and philosophy studies. I started at the studio of Raymundus van Kessel, a monk living in a monastery (actually a converted castle) close to where I grew up in the Dutch countryside. It was a very special place and full of colourful characters. The Saturdays I spent there were the highlight of my week, which sounds a bit odd for an 18 year old. Unfortunately he passed away a few years later. I pursued my studies and embarked on a 'serious' career at various Dutch ministries and later within a UN organization. But the clay pulled me back from the meeting rooms. Soon after I moved to London I signed up at Turning Earth, which was about to open its first studio in Hoxton. From there I started working as an assistant to Hitomi Hosono and later established my own studio, which is now 7 years ago. London has been a great place full of ceramics opportunities.
What drew you to porcelain?
The tactility of the material is what drew me. Porcelain, compared to stoneware has a very smooth, buttery feel. It is also a perfect white canvas for playing around with colour. Plus, though it is notoriously difficult to work with, it also lends itself well to make strong, crisp forms. All qualities of the material I embrace and try to push further in my work.
Who is a maker whose work you love and admire that we should know about but might not?
That is a very difficult question, as there are many makers whose work I admire. 
But if I have to choose: I have really appreciate the work of Ann van Hoey, a Belgian artist who came to ceramics later in life. Her minimal, geometric statement vessels are very distinctive. I admire people who develop a strong personal voice. Having a very minimal approach to making, requires a high skills level. Often there is nothing to hide behind. Her work is executed to the highest standard. And her courage to play around with vibrant colours is another element I really enjoy. 
What is your favourite part of the process?
For me that is definitely the trimming process. To perfect shapes, clean up lines and create a strong silhouette is something that gives me great satisfaction. It is also important as I usually don't use glazes on the outside surface. The way a piece is finished at this stage is directly showing in the end result. There is nothing to hide behind in my work. What you see is what you get. 
Where does your inspiration for your work usually come from? What sights affect or influence you?
Usually I have an image in mind, either from something that once drew my eye: a form, an architectural part of a facade, the negative space in between two forms or some details of Chinese Imperial porcelain pots at the British Museum. That image often is translated into a single line in my head.
I doodle a lot, usually on papers I cannot find afterwards. Transforming that two dimensional idea and draw that line in 3d on the potter's wheel is what never tires me. 
Colour is such an integral part of your work - how did this start?
My love for colour has been there from an early age. The print books of Eric Carle mainly fascinated me as a young child because of the colours.
Later, living in India for a couple of years, I enjoyed and appreciated the abundance of colours and combinations we often in the West would not dare of dreaming up. It opened my eyes to be more playful with colours.
When I took up ceramics again I found a small bag of green stain in the left over material I had stored at my parent's place. I mixed it with some porcelain and the result baffled me. Incorporating the colour into the material gives a deep tone, especially when you polish the surface to a very smooth extent. It was a sign that this is what I like to make and set me on a path of more colour research.
What is the most recent ceramic vessel or piece of pottery you bought for yourself?
The last piece of ceramics I bought was a piece I had long been eyeing for. It's a fantastical beast pot by Raymond van Kessel, the monk where I once started my ceramics journey. Many hours searching for something made by his hands and finally I found this. It's a piece most likely made in the 1960's or 1970's and has a Bitossi feel all over. Instead of the iconic turquoise colour it is a combination of natural clay with green chrome oxide surface decoration. It's the only tangible memory I have of this magical place where it all started for me. But foremost a memory of a special, gentle man who was a glaze magician.
When you work do you assign any significance to particular colours?
I usually make up a colour collection with a vibrant colour as a departing point. The yellows, red and vibrant orange can often be found in my work. I pair them up with more muted tones. This way both colours reinforce each other. 
Because of my working process I work in one solid colour at the time on the wheel. Multiple colours just ends up in a mess and makes chances of contamination much higher. Instead I combine different colour pots in group settings, to stimulate people to think about how to display or use different colours themselves.
Personally I love a splash of colour to brighten up the day, which in our part of the world is not  a luxury.
Does living and working in London affect how or what you make?
My design-led approach and use of colours quickly classifies me as an urban potter, though maybe somewhere I'm still this village boy from a very small place in the Dutch countryside. I personally don't feel any contradiction between those two. But I am also wary of not becoming this 'nature'-inspired trend.
And how do you fire?
I'm very aware of the environmental implications of the making process. Therefore I'm meticulous in reclaiming my material. The number of buckets for different colours in my studio is great. I try to reclaim them separately but if necessary I mix different colours together. 
It is a conscious decision to fire electric. My former studio mate had a gas kiln, but that process was not for me. I love the appearance of reduction fired pots, but most of my work did actually loose vibrancy in that type of firing.
It sounds contradictory but electric firing, I fire also relatively low to 1230C, can be relatively positive compared to for example wood firing.  When I moved into my studio 7 years ago the landlord just installed solar panels, which help contribute to reduce the environmental impact.
Or do you think living anywhere else in the world you'd be working in the exact same way you do now?
London might not be my potter's base forever, then I maybe have to adjust my process. And though my love for porcelain is great, I'm also open to research other materials. Who knows what the future will bring?!